Happy 808 day!

Happy 808 day!
Today is a truly special day in music history. Not only is it 8/08, but it's also 8/08/08, which only happens once in a thousand years! For those of you who haven't caught on yet, 808 is the model number of Roland's famous Transistor Rhythm 808 drum machine. So let's take a day to celebrate the awesomeness that is the
808
!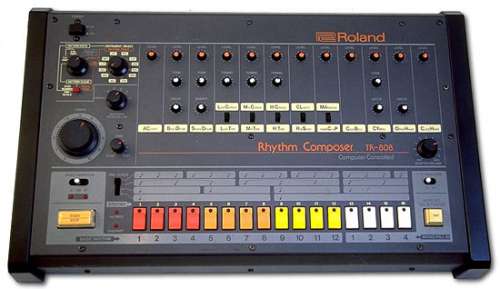 The 808 is most famous for its excellent
bass drum
(via synthmania), which shows up in all sorts of music (most famously hip hop). The clap is also a favorite of mine, and you hear that snare and those chk chk hihats all over the place too. Though originally criticized for its very unrealistic drum sounds, it has come to be quite sought after for its character and programmability, fetching
obscene amounts
on eBay. One of the first famous uses of the 808 is in
Marvin Gaye's Sexual Healing
. To get a better idea of the typical 808 rhythm, check out this video by ThomasinSF (you need headphones or a subwoofer to truly appreciate that bass drum):
[youtube]http://www.youtube.com/watch?v=CgwsSKdZVtU[/youtube]
In celebration of this once-in-a-millenium event, I thought I'd post my
808 sample collection
. I don't know where I got this, but whoever recorded it deserves a gold medal for covering pretty much every sound an 808 could output. Of course it's no match for the real thing, but I don't have $2200 to spend on a drum machine (unfortunately). Grab it while it's hot, I won't be leaving this online for long! If you also want an 808 but don't have the exorbitant amount of dough, don't forget that there is a
schematic in the archives
. There's also a
site dedicated to cloning the 808
based on the
MIDIBox platform
. Hopefully this post will get you in the mood for some hot beats, and remember (as
the Beastie Boys put it
): Nothing sounds quite like the 8-0-8!
-Colin
Write a Comment:
Sorry, you must be logged in to post a comment!
Comments:
[
1
]

(Reply 1)
August 08, 2008, 05:25:44 PM by
salocin
Thanks for the sample collection.

Does anyone here have any experience with the Midibox platform? I've been thinking about building one for a while.
[
1
]